Fishing Supplies in Selinsgrove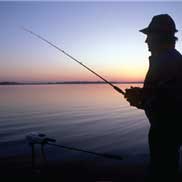 Winter is gone and it is time to prepare for fishing season! If you are in need of fishing supplies near Selinsgrove, angle on down to Hilsher's General Store! With a great stock of fishing supplies, we will get you fully ready to get out on the boat or in the water reelin' 'em in.
Rods and reels of all sorts are at your disposal. All needs in fishing supplies will be met as we carry bait, tackle, hip waders, sundry items and more. Should your pending fishing ventures include camping, we have you stocked there too! If you are in need of fishing wear, we have the most popular brands of rugged, outdoors-oriented clothing, coats and hats.
Hilsher's General Store has everything you need when it comes to fishing supplies and much more.
Our conversant and well-informed staff members will get you where you need to go. They will ably answer any questions you have about our fishing supplies or any of our other products.
Fishing Supplies, Services and Beyond!
At Hilsher's General Store, you will find only the highest quality fishing supplies. We make sure the brands we offer provide a great product. We diligently monitor prices to keep them fair and comparable.
Separate of our fishing supplies, our service desk will get you squared away with this year's fishing licenses and river launch permits. All you have to do is bring in last year's fishing license (or your "old one"). Please note that boat permits are for non-motorized water vehicles only.
A visit is required to see all that we have to offer. Be warned—you may just end up spending hours, even a whole day, at our general store, perusing our wide range of products available. Top your fishing supplies' trip off with a savory home-cooked meal at our restaurant. While you are at it, snatch up some tasty homemade treats from our bakery.
Our general store is located seven miles south of Selinsgrove along Route 11/15. You can easily visit us any time you are near that area. We are easy to get to, and you will have a great time browsing through our fishing supplies and everything else we offer.
Visit us or give us a call to learn more about our fishing supplies and to see all that we have in stock!
Fishing Supplies and So Much More
If you would like to check out our fishing supplies near Selinsgrove, stop on by at Routes 11/15 seven miles south of Selinsgrove. Please also feel free to call Hilsher's General Store at 570-374-1550 or Contact Us.