With the upcoming holiday season, we know many of our customers are going to start their Christmas shopping early. We just got many new items in stock, so we wanted to take the time to highlight some of our newest and most exciting arrivals.
Under Armour
We are proud to announce that we now carry Under Armour. Founded in 1996, this brand of high performance sports clothing is a great way to stay cool while hunting or enjoying your favorite sport. We carry Under Armour gear specifically for those who enjoy hunting and fishing. So whether you need a new jacket for yourself or a loved one for hunting season, come by to take a look at all we have in stock. We carry Under Armour clothing for both men and women.
Applesauce and Other Apple Goodies
While a bulk of the canning season is over, it's still not too late to pick some apples and make some tasty treats out of these! We carry Ball jars, apple peelers and other items that make making applesauce easy and delicious. Come by and browse through all of the tools, jars and other devices we have that will help you make applesauce, apple butter and more.
And in the meantime, you can sample some of our delightful homemade apple dumplings made fresh daily by our bakery.
Fall-themed Decorations
Now that it's fall, it's time to start decorating for Thanksgiving and all of the other upcoming fall and winter holidays. Pumpkins and anything that tastes or smells like pumpkins are incredibly popular this time of year. So of course we have plenty of fall- and pumpkin-themed decorations for your home.
From door mats to cute pumpkin figurines and everything in between, these home decorations make a great gift for yourself or a loved one.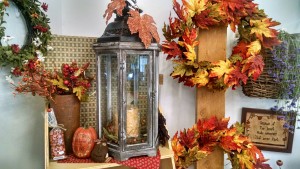 Decorative Pictures
Finally, what better gift to give a loved one than a lovely new picture for their walls? We carry a wide selection of pictures and other home décor, so it will be easy for you to find the perfect gift for a special person in your life.
Are you interested in browsing through our store and seeing all that we have in stock? Call Hilsher's General Store at 570-374-1550, visit us on Routes 11/15 seven miles south of Selinsgrove or Contact Us.